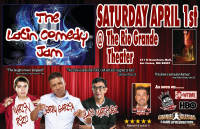 Latin Comedy Jam
Funniest Cast of National Touring Comics on One Stage!
Time: 7:00pm Day: Saturday Doors: 6:30pm
This Event Has Ended
Tickets for sale at the door!  

The Funniest show of the year returns to Las Cruces NM at the Rio Grande Theater.  Voted the "funniest show of the year," and has received 4.9 out of 5 stars online reviews.   
The Latin Comedy Jam brings the funniest cast of national touring comics to one stage.  Within the "The Latin Comedy Jam", we have a family of comics that work year round to keep the show fresh and new everywhere we go. The cast consists of the Carlos Oscar "Entertainment of the Year", Dillon Garcia who was the youngest comic ever to be featured on Comedy Central and who was featured on both season of Stand Up Revolution hosted by Gabriel Iglesias, Johnny Sanchez who was Lombardo from Happy Feet I and II, Luke Torrez from In Living Color-Space Jam, Jill Michele Melean from MadTV and Big Times Rush, Shayla Rivera "Latina Entertainer of the Year," Jerry Garcia who has been the named the next big comic, Jeff Garcia, Willie Barcena, Jeff Garcia, Steve Trevino, and the Rudy Moreno who has appeared on Everybody Loves Raymond and E.R.  In addition, to the great list of comics above, the tour also features comic legends Paul Rodriguez and Carlos Mencia.   
This is a must see show that everyone can enjoy.  If you like Kevin Hart, George Lopez, Gabriel Iglesias, or Chris Rock you will love this show.  So come out for an amazing night out with you friends and family to the beautiful Rio Grande Theater.
https://www.youtube.com/watch?v=Knoxu2GO_WM