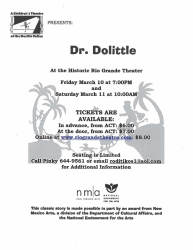 A Children's Theatre presents
Dr. Dolittle
Time: 7:00pm Day: Friday Doors: 6:30pm
This Event Has Ended
Dr. Dolittle loves to tend animal patients more than his human patients, causing a financial crisis in his practice.  All this is quite a concern to his housekeeper – his sister, Sarah. When Dr. Dolittle learns how to actually speak with the animals from Polynesia, his parrot, he creates a thriving veterinary practice. 
His love for animals, as well as his special talent, take him on adventures to Africa and the South Sea Islands. Meanwhile, Sarah remains in England dealing with their domestic issues and ultimately solving the problem of the tax-collector's greedy wife. 
This play features 42 young actors, ages 5 to 17. 
Tickets are $6 in advance and $7 at the door.
Call Pinky at 644-954 or email roditikos1@aol.com