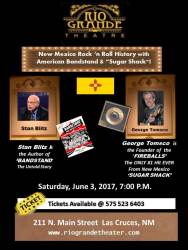 New Mexico Rock 'n Roll History with American Bandstand & Sugar Shack
Time: 7:00pm Day: Saturday Doors: 6:30pm
This Event Has Ended
The history of  "American Bandstand" as told by local author Stan Blitz along with New Mexico's historic Fireballs founder, George Tomsco about their #1 hit and 1.5 million seller "Sugar Shack".
Starting in 1958, the original five members soon became four and through the years replacements were necessary until Stan Lark, the last original member (besides George), decided to 'hang up his rock 'n roll shoes' in 2016.  George is still appearing as a guest guitarist performing with many 50's & 60's bands in Spain, Canada, California, Oklahoma, Colorado, New Mexico and other states throughout the USA.
Lately the legendary Fireball and his working associate and friend, Stanley J Blitz, author of his book Bandstand--the Untold Story, have teamed up together to construct a power point presentation...New Mexico R 'n R History with (American) Bandstand & "Sugar Shack" !
This presentation expands on how a teen age Stanley Blitz from Philadelphia witnessed the birth of 'Bandstand' before it went national, and how  teen age George Tomsco, recording artist through the Norman Petty Studio in Clovis, New Mexico, performed on the American Bandstand afternoon show, and also Dick Clark's Saturday Night Beech-Nut Show in New York City.  "Special 'target market'...Baby Boomers age 50 to 100+...but not to exclude any age group that may be curious about 50's & 60's music!!
Tickets are $17