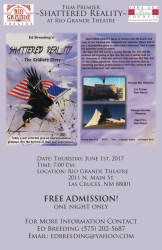 Documentary Film "Shattered Reality"
The Soldiers Story
Time: 7:00pm Day: Thursday Doors: 6:30pm Price: FREE
This Event Has Ended
Millions of young men and women have joined our country's armed forces with, often times, idealistic intentions of serving our country in an honorable way.But when basic training and text school is completed for them, and ten they are thrust into a war zone such as Iraq, Afghanistan, or also Viet Nam, a new and shattering reality grabs them, and too often, setting them upon a collision course with civilian life, when they get out of the armed services.
The attempt for the soldier to readjust to civilian life after being in a war zone too often ends by going to ineffective therapy and popping prescribed pharmaceutical pills, to no avail. Homeless, divorces, isolation can too often be the resutl
This film's intention is to create a better understanding for all.
For more information, contact Ed Breeding 575-202-5687 or edbreeding@yahoo.com